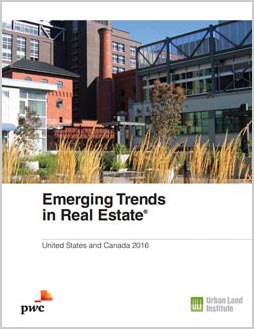 I recently ran across this highly informative report from PWC and the Urban Land Institute. I'll admit, it's a bit long (slightly more than 100 pages). However, it's a fast read and the pay-off is definitely worthwhile.
One of the most noteworthy features of this report lies in the fact it reflects the views of a wide range of industry experts, including investors, fund managers, developers, property companies, lenders, brokers, advisers, and consultants. ULI and PwC researchers interviewed 404 individuals and survey responses were received from 1,465 individuals.
If nothing else, please take a look at the Table of Contents on Page 3. I think you'll be immediately impressed by the nature and scope of the information contained in this report! Then, if you'd prefer to not read through the entire report, you can cherry pick the sections that most interest you.
To access the full report (it's in the convenient PDF format) you can either click on the above image or follow this link: Emerging Trends in Real Estate 2016.
— Joe
Contact Information
Joe Pleva, Director
Keller Williams®
202 Manufacturers Road
Chattanooga, TN 37405
Mobile: 423-667-6204
Office: 423-664-1550
Fax: 423-826-4951
Email: Joe@yourrealtysolutionsteam.com