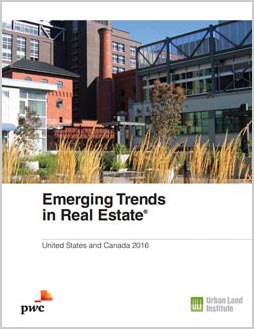 I recently ran across this highly informative report from PWC and the Urban Land Institute. I'll admit, it's a bit long (slightly more than 100 pages). However, it's a fast read and the pay-off is definitely worthwhile.
One of the most noteworthy features of this report lies in the fact it reflects the views of a wide range of industry experts, including investors, fund managers, developers, property companies, lenders, brokers, advisers, and consultants. ULI and PwC researchers interviewed 404 individuals and survey responses were received from 1,465 individuals.
If nothing else, please take a look at the Table of Contents on Page 3. I think you'll be immediately impressed by the nature and scope of the information contained in this report! Then, if you'd prefer to not read through the entire report, you can cherry pick the sections that most interest you.
To access the full report (it's in the convenient PDF format) you can either click on the above image or follow this link: Emerging Trends in Real Estate 2016.
— Joe
Contact Information
Joe Pleva, Director
Keller Williams®
202 Manufacturers Road
Chattanooga, TN 37405
Mobile: 423-667-6204
Office: 423-664-1550
Fax: 423-826-4951
Email: Joe@yourrealtysolutionsteam.com
Healthcare costs! Recently I've had a number of conversations with clients on the subject of our country's healthcare costs — and how healthcare is impacting the federal budget. However, I've found that these conversations tend to reflect each person's political views rather than focus on actual facts and figures. Therefore, I decided to find some detailed information on this subject. And, in the process, I found a report written on April 13, 2015 titled, "The Federal Role in Healthcare: Where Your Taxes Go!" This report is interesting, informative, politically unbiased, and it includes a comparison of United States healthcare costs to the healthcare costs of six other countries.
The report was written by Paul Keckley, Ph.D., a Managing Director at Navigant Healthcare's NAVIGANT Center for HEALTHCARE RESEARCH and POLICY ANALYSIS. Paul's background includes multiple boardroom duties, government consulting roles at the highest levels, he's published three books and written more than 250 articles, and he publishes a weekly newsletter, "Pulse." I think you'll appreciate Paul's unbiased viewpoint as he discusses where we are and where we may be going with the U.S. healthcare system. I think you'll find it very interesting.
— Joe
By Paul Keckley, Ph.D., Navigant Healthcare, (April 13, 2015)
This week, many of us will submit our Federal Income Tax forms to the Internal Revenue Service, continuing a national mandate since the passage of the 16th Amendment to the Constitution in 1913. Last year, 86% of 137,887,000 filers used e-filing and the average refund was $2,861.
Individual taxes are 42% of the $3.0 trillion the federal government took in last year: an additional 40% comes from payroll taxes, 9% from corporate taxes, 3% from excise taxes and 6% from others. The official tax rates across our 7 major brackets range from 10% to 39.6%, but after deductions and other adjustments, the effective rate is 0% to 20.1%.
And of the $3.5 trillion the federal government spent in 2014, $1.1 trillion went to healthcare led by Medicare and Medicaid funding. So federal income taxes play a major role in funding the U.S. healthcare system in addition to out of pocket costs paid by employers and individuals for co-payments, deductibles, premiums and more.
The current debate about health reform in the U.S., and the announced goal by CMS to accelerate the transition away from fee for service payments to a performance-based alternative payment system are chapters in the short history of the U.S. health care system. Before passage of legislation authorizing federal funding for Medicare and Medicaid July 30, 1965, a payment system in health care did not exist consistently across the states. It was a retail market: doctors charged for their services, hospitals were paid either directly or through insurance that covered inpatient events, and that was it. The American Medical Association (AMA) supported hospital insurance, but resisted efforts to regulate professional and outpatient services vigorously.
In the Eisenhower, Kennedy and Johnson years, the problems of the aging and poor were perplexing to the country: the passage of the Civil Rights Act of 1964 opened the door to a desegregated health "system" but a payment mechanism did not exist at the time. LBJs "Great Society" sought to fix the problem, with Medicare and Medicaid becoming the healthcare safety nets for seniors and the poor. In the year after passage, their costs were less than 3% of total federal spending and .4% of the U.S. GDP; last year they were 31% and 17% respectively.
Click on this link to read the full report…
Contact Information
Joe Pleva, Director
Keller Williams®
202 Manufacturers Road
Chattanooga, TN 37405
Mobile: 423-667-6204
Office: 423-664-1550
Fax: 423-826-4951
Email: Joe@yourrealtysolutionsteam.com
I was recently working with one of my clients to explore a variety of non-traditional methods to finance a property that he wanted to purchase. His need for alternative financing was driven by the fact his banker was not willing to fund the purchase with the favorable terms my client needed.
In most cases this purchase would have come to a screeching halt. However, my client decided to explore other financing options. And, I worked closely with him to identify the best strategies based upon his financial situation.
Fortunately, our efforts paid off. My client was able to complete his purchase thanks to a little research, a little creativity, and his can-do attitude.
Here's my point:
During the above process I ran across a 14-page PDF report that I thought was particularly well done and potentially useful to many commercial and residential real estate buyers.
"Your Quickstart Guide to Getting Financing – 10 Creative Ways to Buy Real Estate in Today's Market… With No Money Down" is written by Reggie Lal, an active real estate investor, wealth building coach, speaker, author and educator.
The report discusses these 10 alternative financing options:
♣ Owner Financing
♣ Wholesaling
♣ Double Closing
♣ Using Friends and Family Money
♣ Private Money
♣ Hard Money
♣ Options
♣ Sandwich Lease Option
♣ Use a Credit Partner
♣ Do an Equity Share with the Owner
Want a taste of the information provided? Here are the first few paragraphs of the report:
What is Creative financing: a term used widely amongst real estate investors to refer to non-traditional ways of financing real estate; in other words, financing techniques not commonly used by Real Estate Agents or Banks.
Why Creative Financing is a Necessary Tool:
One simple way to buy a home [or commercial property] is to pay all cash. However, the typical Investor is not in a position to do this, nor is this an efficient use of your Capital. Thus you must arrange for some type of financing of your purchase(s). Using Creative Financing techniques, you will be able to get there faster.
In this market – most Investors can afford only a modest down payment and are forced to secure the remainder of the purchase price by mortgage from some source other than the normal lending institutions (Banks). The problem is – in a down Real Estate Market: credit tightens, there is little liquidity in the market place, appraisals tend to come in lower and investor loans are limited and hard to obtain. This makes conventional Real Estate Financing nearly impossible for us Investors. That is why I took the time to write this article for you.

The general goal of creative financing is to purchase or finance a property, with the buyer/investor using as little of their own money as possible, otherwise known as leveraging, OPM (Other People's Money). Yes – "it takes money to make money". However it does not have to be your OWN MONEY! Using these techniques, an investor may be able to purchase multiple properties using little or none of their "own money" and still do multiple deals at the same time. Don't' worry – As you get better at buying – the money will find you.
The more money a property requires, the less attractive it is to us the Real Estate Investor. So as Investors/Buyers; we should not use all of our savings for the down payment or repairs, this deprives us capital for other deals and reserves to fall back on.
Click on this link to read the full report…
— Joe
Contact Information
Joe Pleva, Director
Keller Williams®
202 Manufacturers Road
Chattanooga, TN 37405
Mobile: 423-667-6204
Office: 423-664-1550
Fax: 423-826-4951
Email: Joe@yourrealtysolutionsteam.com