Property Overview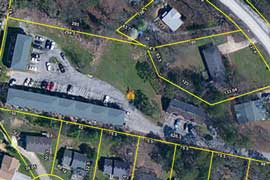 Nice apartment complex with 4 buildings.
There are 27 apartments (18-2 Bedroom and 9-1 bedroom). Most units have been updated in the last 5 years. Most windows have been replaced. Minor cosmetic exterior work is needed on 2 rear buildings. Other 2 buildings are in excellent condition. Roofs have been replaced. Roof facades need replacement. The owner will provide a $20,000 allowance for this work.
The 18-2 bedroom apartments have 1.5 baths. Current rent is $500/month. The 8-1 bedroom apartments have 1.5 baths. Current rent is $450/month. All apartments have a $300 deposit on file and each tenant has a 1-year lease.
Excellent location near business area in Hixson.
Gross annual income for 2012 was $128,460.Gross annual income for 2011 was $128,000. Gross annual income for 2010 was $119,000. Annual taxes are 17,008,  annual insurance is about $6,500. Water is about $700/month. Annual Management fee is $6,264. There have been from 0-4 vacancies in the last year. On average there have been between 1-2 vacancies. A Cap Rate of 9.5 is based on 6% vacancy rate and $5,000 annual maintenance.
Contact Information
Joe Pleva, Director
Keller Williams®
202 Manufacturers Road
Chattanooga, TN 37405
Mobile: 423-667-6204
Office: 423-664-1550
Fax: 423-826-4951
Email: Joe@yourrealtysolutionsteam.com