Meet David Adams — Your Key to Real Estate Success
David Has Been Buying, Selling and Leasing Commercial Real Estate For More Than 10 Years
Hi, I'm David Adams, a commercial real estate agent serving clients throughout the greater Louisville, KY market and I'm here to help you achieve your commercial real estate goals.
Whether you plan to buy, sell or lease commercial property, I can provide you with professional real estate services that are laser focused on your specific commercial objectives. In addition, I strive to obtain the best possible terms and bring transactions to the closing table as fast as possible for every client I serve.
I'm a member of Keller Williams Realty, the nation's #1 real estate company. Keller Williams Realty is the industry leader and it consists of an outstanding team of real estate professionals and support personnel. In addition, Keller Williams provides me with valuable real estate tools, informational resources and training opportunities that are only available to Keller Williams' agents. And equally important, Keller Williams keeps me up to date on significant developments impacting the Louisville real estate market — and all of these elements are intended to benefit our clients.
I've been investing in commercial real estate throughout the past 10+ years. I've bought and sold various types of properties and this experience has taught me a number of valuable lessons. One of the most important lessons concerns the need to be thorough and do the necessary homework, regardless of the time required, in order to THOROUGHLY understand ALL of the details in EVERY real estate transaction that you are involved in. This applies to each of my personal transactions as well as to all of my clients' transactions. Additionally, from a client's perspective, this type of personal, hands-on, agent investing experience should be an important consideration as you select a commercial real estate agent to work with.
In addition to providing you with all of the benefits normally available through Keller Williams, I'm able to offer my client's an additional benefit that is both unusual and extraordinary, and here it is:
I work with one of Keller Williams' top-performing commercial real estate brokers. He lives and works in a nearby metropolitan market and he is available to examine and make suggestions regarding the deal-points in my clients' pending transactions. This service costs you nothing, but it can provide a positive return. It's just another way he and I are able to serve as "Your Realty Solutions Team."
Louisville has been my home for more than 30 years and throughout this time I've been able to develop an in-depth understanding of the market. Furthermore, I have previously lived in 7 other cities located throughout the Southeast and Midwest and Louisville is by far my favorite. It's been exciting to be here, to establish roots, and watch Louisville develop into a dynamic and growing destination city.
I'd be honored to help you achieve YOUR commercial real estate goals as you participate in Louisville's continued growth and development.
Let's discuss your commercial real estate needs. Call me TODAY at 502-939-1802.
More About My Background
I grew up on a dairy farm in Cleveland Tennessee. Both of my parents were teachers and every summer was divided between farm work and building  spec houses with my Dad. I learned the value of hard work and vision at an early age.
After 2 years in the School of Architecture at UT Knoxville I decided to change to the School of Business and I graduated with a Marketing degree.
I've had a wide variety of experiences in multiple areas during my career. I started in field sales with Hardwick/Maytag and worked in Cleveland OH, Minneapolis and Kansas City while covering most of the Midwest. I subsequently joined the Roper Corporation and relocated to St Louis, Charlotte, then Chattanooga, also in sales positions.
I accepted a position managing Roper's largest customer and was responsible for product design, engineering, manufacturing, quality, logistics, as well as $200M in sales. When GE purchased Roper I moved back to Louisville to assume an expanded role with GE facilities. During that period of time I was part of a team that opened a new gas range product manufacturing facility in San Luis Potosi, Mexico. 
Then, in 2003 I starting my own import business and added export a few years later. I have worked in Indonesia, Vietnam, China, Singapore, Australia, and almost all of Europe during my career.
On the personal side my wife, Angie, and I have been married for 28 years and we have 2 sons. My oldest son, Josh, is employed in the Louisville area, and my youngest son, Cameron, is a student at Eastern Kentucky University.
I love being outdoors. I retired as a scoutmaster after 13 years in 2018 and proudly both boys joined me as Eagle Scouts. I loved to run but injuries came along and I became a cyclist. I was part of the original group of 9 that formed the Clydesdales Cycling Team in 2013 to raise money for Norton Cancer Center and their fight against cancer. There are now over 50 of us and we have raised almost $400K to date through The Bike to Beat Cancer. And finally, I began a new sport this year in auto racing.
A Picture is Worth a Thousand Words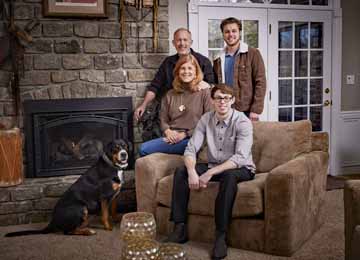 Here I am with my wonderful wife, Angie, our 2 sons, Josh and Cameron (seated), and Pepper, our 10-year old Swiss Mountain Dog.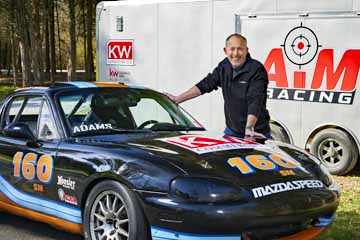 My racing car is a 1999 Mazda Miata that's been fully modified for racing and runs in the "Spec Miata" class. The car has a pro-built X-Factor engine, top speed is around 120 mph, and it is known for some of the best handling characteristics in racing.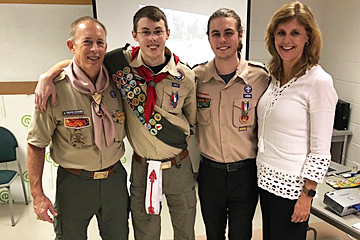 I'm proud to be an Eagle Scout. My oldest son, Josh, has also earned the rank of Eagle. On the day this picture was taken my youngest son, Cameron, was also awarded the rank of Eagle.  I am proud of the fact that both of my sons have earned the right to forever be known as an "Eagle Scout."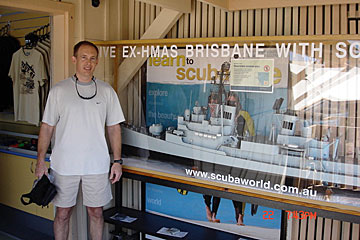 During the years I traveled the world on business I was in in Australia and took advantage of the opportunity to scuba dive on the site of the HMS Brisbane, an Australian guided missile destroyer sunk in 2005 to form an artificial reef. It was an amazing experience!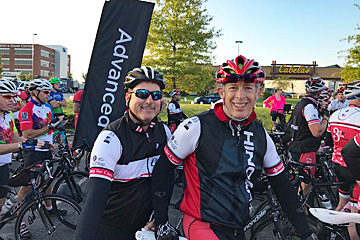 I was one of the founding members of the Clydesdales Cycling Team, a group formed to raise money for Louisville's Norton Cancer Center. There are now over 50 of us and to date we have raised almost $400k. (Our efforts were limited for 2 years due to the COVID-19 pandemic.)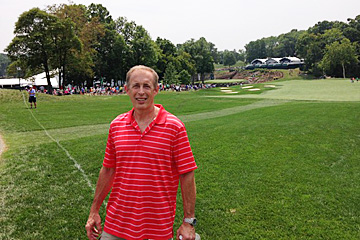 I used to play golf and I now enjoy watching tournament play. Here I am at the PGA Tournament at Valhala in Louisville. (It's only about 2 miles from my home.)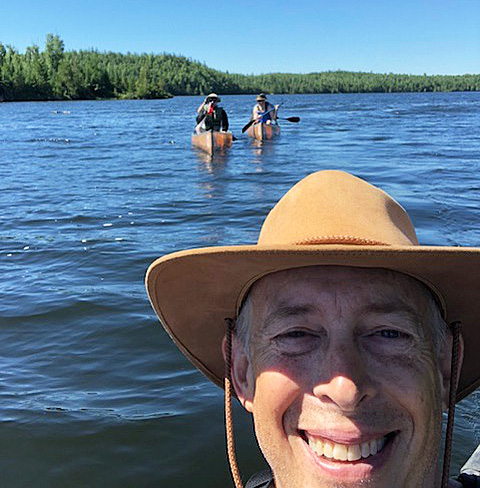 I was a Scoutmaster for 13 years and the boys really looked forward to our periodic wilderness adventures. We'd depart civilization, explore unique wilderness areas (camping out the entire time), work on various merit badges, and have a really good time! This was a canoe trip to the Boundary Waters, a million acre wilderness area that straddles the United States/ Canada border west of Lake Superior. FYI: Our canoe trips were among the boys favorite adventures! 
Get a free 'Market Analysis' of your property. Call 502-939-1802
Affiliated Entities We Know and Trust