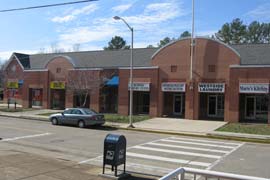 The Grove Center is a retail space strip center located in the downtown Chattanooga, TN area. It is currently available for sale or lease. This commercial property consists of 18,292 square feet of retail space on a 1.19 acre parcel of land. The sale price is $850,000. Individual retail spaces are also available for lease. (See the retail space details below).
This retail space strip center is located just outside of Chattanooga's Central Business District, near the Martin Luther King Blvd. and Rout 27 interchange. This location provides easy access to/from all area highways. The property also has adequate parking available for tenants and customers.
The Grove Center includes several highlights worth mentioning. For example, each suite's floor plan is tailored to meet the previous tenant's layout needs. However, each of these retail spaces can easily be redesigned to meet the requirements of any future tenants. Of course, these floor plans provide an ideal situation if a business owner in the same service category is searching for retail space.
This unique commercial property is available for sale or lease by Joe Pleva, Commercial Realtor at Joe Pleva and Associates. Watch our short video for more information.
Available Retail Space
One 120 +/- square foot suite for lease for $250.00 per month (Gross Lease). This retail space is currently laid out for a barber shop.
One 850 +/- square foot suite for lease for $1,300.00 per month (Gross Lease). This retail space is currently laid our for a women's hair salon.
One 1,000 +/- square foot suite for lease for $1,800.00 per month (Gross Lease). This retail space is currently laid out for a laundromat (with existing plumbing).
One 8,000 +/- square foot suite for lease at $6.00 per square foot per year (NNN Lease). This retail space was previously occupied by Dollar General and is a perfect site for a similar discount merchandise store (such as Family Dollar, Dollar General or Dollar Tree). Also, this retail space is equipped with sufficient electrical capacity for a food service tenant to occupy.
The previous occupant of the 8,000 +/- square foot suite, Dollar General, had a successful experience during their lease term at Grove Center. This discount general merchandiser's  success demonstrated that area residents support nearby retail stores that provide necessary household goods and services.
Surrounding Area Information
The residents in the surrounding area make up the Westside community. This community consists of three public housing sites and five subsidized housing complexes, including approximately 3,500 low-income residents.
Most Westside Community residents must purchase their household goods and service items at the closest grocery store, Buehler's Food Market. However, Buehler's is located more than a mile away. This makes simple tasks like grocery shopping a significant challenge for the many disabled and elderly Westside residents who rely on public transportation.
The Westside Community residents share many of the same demographics and socio-economic characteristics. This allows for a uniform set of characteristics that is useful when researching the area's market potential.
Westside residents typically live on low or fixed household incomes.
A large percentage of Westside residents' households receive supplemental income and other public assistance.
Westside residents include a blend of racial groups: approximately 50% are white, 33% are black and 17% are Hispanic.
Approximately 33% of the population is over the age of 50, with many household members over the age of 65.
Most Westside residents rely on public transportation.
A vast majority of the Westside residents live in high-rise public housing or subsidized housing.
The large number of retired residents have accumulated wealth throughout the years that is not accounted for in these data sets.
Summary
Retail tenants who cater to this demographic market by providing necessary household goods and services, and are within walking distance for the area's residents, are most likely to succeed in this location.
Overall, Grove Center provides a premium location for tenants who are able to benefit from these conditions. It is also an excellent investment opportunity.
Contact Information
Joe Pleva, Director
Keller Williams®
202 Manufacturers Road
Chattanooga, TN 37405
Mobile: 423-667-6204
Office: 423-664-1550
Fax: 423-826-4951
Email: Joe@yourrealtysolutionsteam.com